Terms & Conditions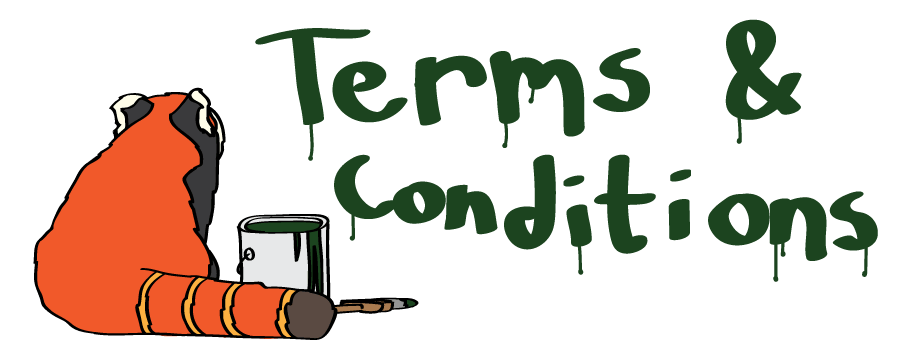 Oh, hello! Not many people come here.
So here is the deal, if you continue to browse this website then you agree with the following terms and conditions of use, which in combination with the very reasonable Privacy Policy govern No Lesser Panda's relationship between you, dear visitor, and this Website. If you disagree with any part of these terms and conditions, then you can no longer use this website and I'm afraid you will have to leave.
Throughout this document I will use the terms "this Website", "nolesserpanda.com" and "NLP", these mean the same as No Lesser Panda.
Here are the terms:
License for Use
Electronic copies
You are permitted to download a single, temporary copy of the this Website for personal, transitory viewing. This action is typically performed automatically by your browser and the copy stored in your browser's cache. This is a grant of license and is not the transfer of ownership or title.
What does that actually mean?
So you really like my panda pictures, or perhaps you think a piece of code I have written is great? Thanks, I'm flattered. Maybe you'd like to save a copy onto your computer or stick it on your site? Sorry my friend, that is not allowed. Under the terms of this License here are the things you are not allowed to do:
Make copies of any material on this website.
Remove the copyright from any of the materials on this site.
Transfer the materials to another person.
Mirror these materials through another server.
Pretend that you created the materials yourself.
A violation of one or more of the points above results in the automatic and instant termination of this License. Pow, just like that. In addition I reserve the right to terminate the license at any time.
Sharing my work
Hey, I'm not a total meanie though, if you really want to share or reuse my work you can do so provided you meet all of these following conditions:
You ask permission (nicely).
You are granted my permission via email or other written communication.
You are using it for non-commercial purposes.
You credit it as my work with a link back to nolesserpanda.com.
This does not apply to the sharing of links to pages on this website via social media or sharing links via other methods such as email or other electronic message. That is totally fine.
Printing
Why would you want to do that? Save a tree! If you feel you absolutely must print out a section of this website then it is for your own personal use and you must not:
Use the printed material for commercial purposes.
Remove the copyright.
Pretend that you made the material yourself.
Terms of Use
Content
All of the information provided on this website is subject to change, sometimes that can be without notice. The information is provided for your general information only.
Like any reasonable human being I aim to provide you with best advice possible, however the use of any information or materials found at this website is entirley at your own risk. It is your responsibility to make sure that any services or information provided by NLP meet your specific requirements. Please do not remortgage your house, attempt to buy a red panda or anything silly like that because of something you read here. If you do then I can not be held liable.
This website contains links to third party websites, NLP is not responsible for any of the content on those websites, a link from nolesserpanda.com to another websites does not mean an endorsement of that website.
The nasty bit
Unauthorised use of this Website and/or this Website's contents may give rise to a claim for damages and/or be a criminal offence.
And finally…
Your use of this website and any dispute arising out of such use of the website is subject to the laws of Scotland.
You are here: Home / Policies / Terms & Conditions