New Project Complete: Cambuslang Harriers

Who was it for?
Cambuslang Harriers are a running club based in Cambuslang, near Glasgow.
What was the brief?
The club's existing website was using an old WordPress theme, the primary problem was that the theme was not responsive and was difficult to read on a mobile device. In addition the theme looked dated and it wasn't flexible enough to accomodate the many different types of page the website required.
What was done?
As there was already a lot of existing content such as news stories and pages it was decided that a custom WordPress theme would be the best solution. This would allow a seamless transition to the new site and also allow members of the club who already had admin access to continue to post news stories or update pages.
What was used?
The website was a custom WordPress theme built in HTML 5 with CSS3 and javascript.
The Result
The new Cambuslang Harriers website as it appears on desktop and mobile devices.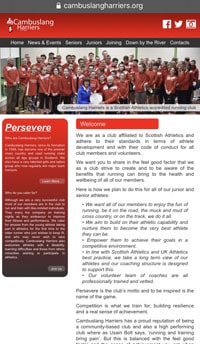 Visit the website (Opens in a new page)
What they said
"We would like to commend the excellent work of Colin Reilly who undertook the commission to revamp the club website of Cambuslang Harriers. This included a refresh of the overall design, layout and coding.
The creative talent and skill of Colin coupled with his willingness to engage closely with us throughout, has helped our club website to be transformed, by being more aesthetic and flexible to more readily adapt to our changing needs.
Users of the site and club members have described it as inspirational, fit for purpose and dynamic."
Des Dickson, Club President, Cambuslang Harriers
You are here: Home / News / New Project Complete: Cambuslang Harriers