New Project Complete: Acorn Trails

Who was it for?
The website was designed for Acorn Trails, a new company that organises various running events across Scotland. The company had recently been set up by experienced race director Alex.
What was the brief?
Acorn Trails was a brand new start up, when Alex contacted me he had some rough ideas on a colour scheme and what the logo should look like. He had worked with Wordpress websites before so he was keen to have that as the platform for the new website. The goal was to create a logo and branding for the new company, including social media icons, and build a website that would feature information about upcoming races as well as a blog section with multiple authors. The turn around time was approximately six weeks.
What was done?
The first step was to design the logo and set the colour scheme. It was important that the logo was not overly complicated as it would be printed on a variety of merchandise such as race t-shirts, medals, buffs and so on. Therefore the logo had to be scalable, bright and eye-catching. An acorn was chosen as the company icon and a rough hand written font was chosen for the script which ties into the rustic, muddy off-road trail races that the company would be organising. Once the logo was complete the next step was to build the website. A bespoke Wordpress theme was created using features such as Advanced Custom Fields in order to allow features on the site such as the upcoming races features and the detailed blog author pages. A number of unique features were added to make the website stand out, for example the acorn shaped image thumbnails for blog posts.
What was used?
The website is a bespoke Wordpress theme using HTML 5, CSS3 (SASS) and Javascript.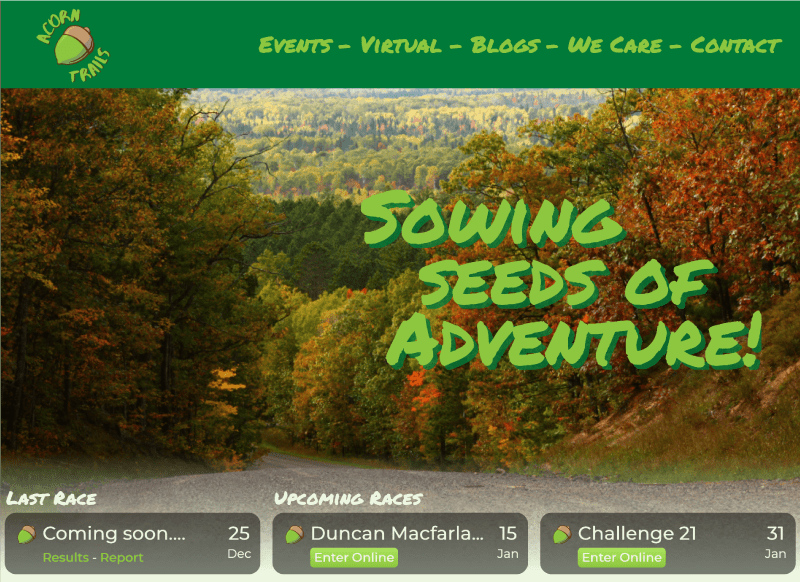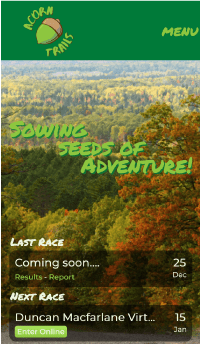 Visit the website (Opens in a new page)
What they said
"Fantastic! Colin has a meticulous attention to detail that matches his creativeness, and a passion for your project, that makes you feel as if he is part of your team."
Alex Osborne, Acorn Trails
You are here: Home / News / New Project Complete: Acorn Trails